When was the last time you scheduled a bathroom renovation in RI? If it's been over ten years, it's time to make that call! Before you go another day without a needed bathroom renovation, consider 6 reasons to schedule this work today.
1. Bathroom Renovations in RI Alleviate Stress
How can a Rhode Island bathroom remodel alleviate stress? One way is by adding adequate storage right where it's needed. Two, consider a larger vanity you can share with someone more easily during busy mornings!
Rather than stressing over where to find needed items, a new closet and added shelving can keep them right at your fingertips. Mornings are also easier when everyone has adequate space in the bathroom. A contractor can also add outlets where needed and increase privacy around the toilet and shower.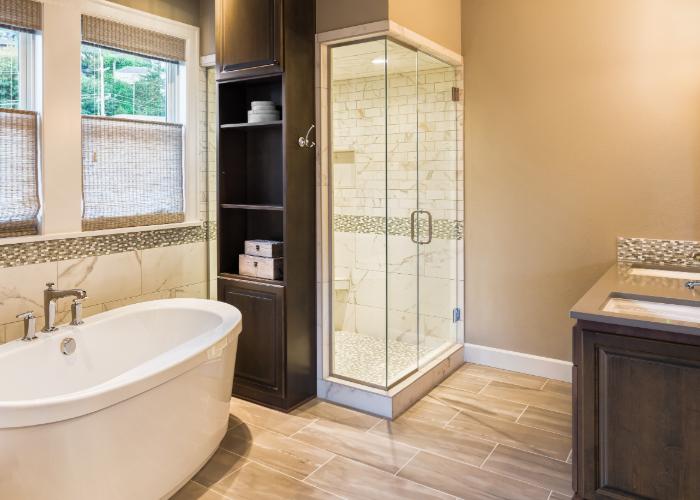 2. Get Organized With a Bathroom Remodel
A bathroom remodel can mean an organized as well as a larger bath. For example, a renovation contractor might add custom shelving for your oversized comforters and linens. Also, a remodel might include small cubbyholes for various personal care items.
Additionally, a renovation contractor can often add separate closets or shelving for everyone using the bathroom! In turn, you can keep items organized more readily and ensure proper storage for everything you own.
3. A Bathroom Remodel Offers Added Protection Against Water Damage
Over time, tile adhesion, paints, and other surface materials in a bathroom break down. In turn, they allow wood framing and drywall to absorb steam and airborne water droplets. Consequently, your bathroom might soon suffer wood rot, mold, and other damage.
Updated materials offer added protection against this damage. New tile, grout, caulk, paint, and other such coatings reduce the risk of mold and rotted framing. You'll then face fewer repair costs over time and less risk of warped floors and walls in the home.
4. Choose a Bathroom Renovation for Added Relaxation at Home
If you've always dreamed of luxuriating in your own spa at the end of a long day, a bathroom renovation can make it happen! Bathroom renovation contractors can add upscale features to even the smallest space. Additionally, softer colors, new shower heads, and other seemingly minor touches can make your bathroom a joy to use.
Also, you might find that some changes make the bathroom more welcoming and usable for your needs. As an example, a tub to shower conversion means added room for built-in seating. Just being able to sit in the shower can make it more relaxing than ever!
5. Bathroom Renovations Often Add Value to a Home
In addition to all the wonderful features you need from a bathroom every day, a renovation can increase property value! In turn, you can build equity faster and sell your home quicker if you should decide to move. Also, note that increased property values can mean higher lines of home equity credit. Consequently, you can improve your financial portfolio with a bathroom renovation!
6. Make Needed Repairs During a Bathroom Redo in Rhode Island
When a contractor starts pulling up materials for a bathroom renovation, he or she often spots needed repairs. This might include warped floorboards, leaking pipes, outdated wiring, and so on. In turn, you can make those repairs as needed, while the bathroom space is already torn up.
Note, too, that a renovation contractor might also suggest ways of protecting your bathroom space from future damage. One suggestion might be improved ventilation. Two, he or she might use higher quality paints or coatings, to help repel steam. Consequently, a renovation protects your new bathroom from water damage, mold, and other such risks.
When to Schedule a Bathroom Renovation in RI
In some cases, a homeowner might only need to look at their outdated bathroom and know that it needs renovating! However, if you're not sure when to schedule this work, check out some recommendations to keep in mind:
Old and worn tile might not offer adequate traction, creating a slipping hazard. If your bathroom's tile is more than 5 or 6 years old, consider a renovation!
Today's bathroom surface material repel moisture and are easier to clean than ever. In turn, schedule a renovation if you think you're spending too much time cleaning the bathroom.
If you're experiencing stress from a crowded bathroom or lack of storage, schedule a renovation. Even a few small changes can make the space easier to use for everyone.
If you've updated other spaces of the home, don't overlook the bathroom! An outdated bath can detract from a stunning new kitchen, bedroom, and other such room in the home.
Rhode Island Bathroom Remodeling is happy to bring this information about reasons to schedule a bathroom renovation in RI to our readers. Hopefully this information has been helpful! If you're ready for an update, call our Rhode Island bathroom renovation contractors. We'll schedule a FREE design consultation and get your home started on a stunning new bath. To find out more, call us today.