A new shower installation in a RI home is a great investment for any family! An updated shower can include more room in the shower area, providing space for accessible storage. Adding a shower where there isn't one means less stress for everyone on busy mornings! In many cases, a shower renovation or installation can even increase property values.
However, many homeowners still hesitate to schedule a needed shower installation in Rhode Island, worried over its cost. So that you can make the right decision for your home, check out some details about average shower installation costs. Discuss this information and renovation plans with a professional contractor as well. This will ensure you're happy with your new shower for years to come!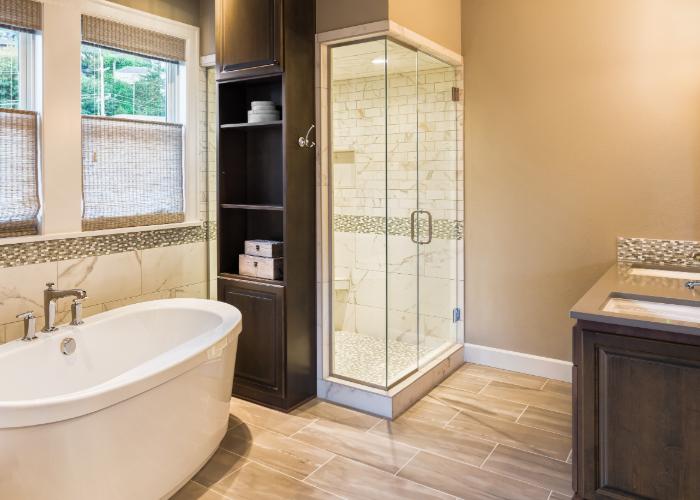 Average Costs for Rhode Island Shower Installation
As with any home improvement project, your average costs for a Rhode Island shower installation vary according to materials chosen. Also, a larger shower costs more than something smaller! Additionally, contractors might charge extra for various details of your installation, such as dual showerheads or a built-in seat.
Moreover, consider that labor costs add to your overall installation price. For instance, a standard acrylic shower shell might cost from $750 to $3000. On the other hand, installing a tub and new tile by hand might start at $4000 and run over $8000.
If you need an existing shower removed before installing a new one, expect to pay from $1200 to over $6000. Adding or relocating plumbing pipes can also add $600 to $1600 to the project, on average.
On the contrary, if you just need a shower removed and not replaced, a contractor might charge $50 to $100. Hauling away the resultant debris might mean another $250, on average. However, having a professional manage this work ensures safe tear-outs and shower removals. Also, paying them to remove the debris is often easier than trying to haul away that mess yourself!
What Type of Shower Installation is Best for a Home?
Homeowners are often surprised to discover their various options for a shower installation or remodel. However, knowing a bit more about your options ensures you choose the right one for your home. Also, some choices are more affordable than others. In turn, you might be surprised to learn that you can afford that new shower your family needs!
A standard bath/shower combo offers a relaxing soak or needed shower. If your current tub and shower offers the space you need, consider a simple update. New tiles or a fitted shell provide a stunning new look without high labor costs.
Custom showers are excellent for small or awkward spaces, or for creating a large shower space. However, labor needed for installing a custom shower by hand can be cost prohibitive for many homeowners.
Prefabricated showers, or those preassembled by the manufacturer, offer many advantages! One advantage is that you can install them in any space that can accommodate plumbing, including a basement or bathroom corner. Also, they need very little labor for installation, reducing their overall costs.
Corner showers use a glass enclosure that extends in a semicircle, from one wall to another. These are excellent for small bathrooms or for converting a lavatory to a full bath.
Step-in showers are excellent for wheelchair users and those with balance issues or other health concerns. These install without a "lip" or ledge across the front, allowing for easier access and added bathing space.
Steam showers offer upscale luxury, but they are not a DIY project! Warm steam relaxes muscles and open pores, like a sauna. However, steam showers need specialty enclosures. In turn, you'll need to hire a professional for your steam shower installation.
Does a Shower Installation Add Value to a Home?
A shower remodel or adding a new shower where there is none can increase property values! Expect to see a 60%-80% return on your investment in terms of increased property values. In other words, your home's value might increase $600 for every $1000 you spend.
In addition to property values, consider the functional value of a shower renovation or addition. An updated shower can offer added space, for more comfortable bathing. Also, a shower renovation can include built-in shelves, for accessible storage. Walk-in showers are also easier to manage for those with balance issues or other health concerns.
Above all, another shower in the home can ease congestion in the bathroom on rushed mornings! You can avoid a line outside your home's bathrooms and get out the door on time with an added shower. Also, a new shower can mean family members not having to share a bathroom, for added privacy and comfort.
Rhode Island Bathroom Remodeling is happy to offer this information about a shower installation in Rhode Island to our readers. If you're ready for a new shower or shower renovation, call our Rhode Island bathroom renovation contractors. We offer FREE consultations and customized designs. To get your home started, call us today!