Are you in the market for a bathroom tile installation in your home but are concerned about the price? In many cases, new tile is well worth that investment! One reason is that old tile might risk water leaks and resultant damage. Two, outdated tile might be slick and unsafe underfoot.
However, homeowners might still want to consider reglazing or painting rather than full-scale bathroom tile installation. Before you do, consider the pros and cons of this process. Next, discuss them with a tiling expert or renovation contractor near you. This will ensure you make the right choice for your home's bathroom!
Can bathroom tile be reglazed?
First, note that reglazing is any "touchup" of a tile's appearance, including painting, adding fresh gloss, and so on. Second, reglazing is not an option for chipped, cracked, or otherwise damaged and broken tiles. In these cases, it's best to replace those tiles altogether.
Also, reglazing can improve the appearance of grout between tiles. However, it won't correct worn and peeling grout and adhesive! If your tiles need more than just a touchup of their appearance, consider full-scale retiling.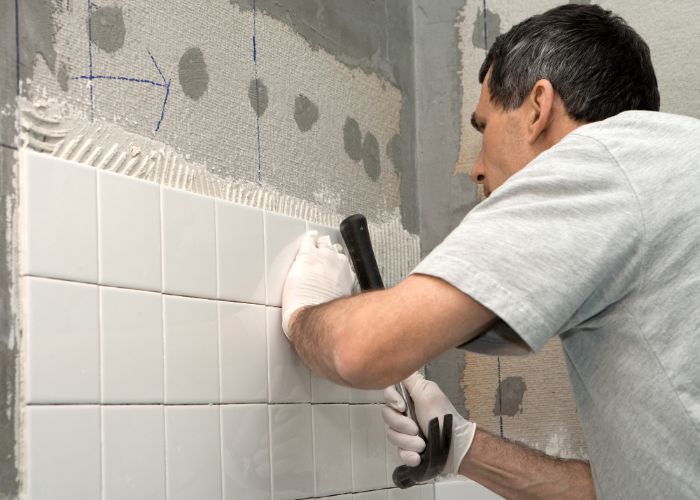 Consequently, note that reglazing offers an updated look for tile that's in good condition but simply outdated. Also, reglazing can also offer some extra waterproofing protection. As with many home improvement projects, you'll need to consider some important reminders before diving in!
First, invest in an actual reglazing kit, or ensure you use paint meant for ceramic or other smooth surfaces. Second, you'll want to keep the exhaust fan running, for proper ventilation. Third, the tile should be clean and dry before reglazing, so consider using another shower for a day or two!
Many reglazing kits include cleaning equipment and materials to prepare tiles properly. If not, you'll probably want to sand the tile surfaces with a fine grit sandpaper. Next, scrub the tiles thoroughly and rinse completely. Ensure you've removed all grit and soap residues.
Lastly, allow the tiles to dry completely. You can take this time to apply painter's tape to areas around tile edges as if painting any surface. Apply the paint, glaze, gloss, or other material per package directions and let dry thoroughly.
How do you refresh old bathroom tiles?
Before reglazing or painting tiles, give them a thorough cleaning! One trick is to coat them with thick toilet bowl cleaner and let it sit for several minutes before scrubbing. Two, try watered down hydrogen peroxide and spray this on the tile, to remove surface stains.
To address rust or hard water stains, try a cleanser designed for these in particular. When scrubbing, turn on the hot water and let the shower fill with steam. This can help loosen dirt and grime trapped in all those pits and pores along tile surfaces.
Also, consider removing dirty or moldy grout and replacing it with new grout. Bright, white grout can renew tile appearance quickly and easily. Additionally, you might consider repainting the rest of the bathroom. You might be surprised at how fresh paint can improve the appearance of surrounding tile!
Cost to resurface shower tile
As with any home improvement project, shower resurfacing costs depend on the size of the shower and materials chosen. In many cases, you can find kits for a standard-sized tub for as little as $100. Higher-quality paints, fresh grout, and other materials might increase those costs to over $1000.
Considering these costs, you might still be asking if reglazing bathroom tile is worth it. The short answer is yes! Reglazing or painting tile supplies a fresh new look for your bathroom. Also, paint especially can cover tough stains or discoloration. In turn, your bathroom will look cleaner and more stylish when you choose to reglaze.
Retile versus reglazing: Which to choose
While reglazing allows you to update tile instantly and affordably, it's not always the right option! Instead, consider replacing broken, chipped, or otherwise damaged tile. Also, retiling allows you to pull out and replace worn-out and unsightly grout.
Additionally, remember that reglazing adds some waterproofing but doesn't correct water damage. Removing old tile allows a contractor to repair or replace rotted framing, drywall, and other materials. Also, a contractor might want to add a new waterproof barrier behind that wall during this project.
Moreover, consider if you might sell your home sometime in the near future. If so, potential buyers might appreciate new tile rather than painted or reglazed tile. Advertising your new waterproof barrier and repaired framing can also make your home more desirable! Consequently, you might get back some of your retiling costs with increased interest from buyers.
In addition to retiling, you might consider a renovation if the tub and other fixtures are old and unsightly. Replacing that tub with a shower kit is an affordable, quick update! A bathroom contractor can also note if it's time to replace fixtures and how to do it on a budget.
When is it time to schedule a bathroom renovation?
Sometimes retiling is a better option than tile reglazing, as said. In the same way, sometimes a full renovation is better than a few "touchups" in your home's bathroom! Consider when and why you might schedule a remodeling project for your bathroom space:
A renovation might create usable, accessible storage. In turn, you can stay organized, keep things separate in a shared bath, and have items close at hand.
Damaged floor tiles create a slipping hazard in a bathroom. Consequently, your contractor might recommend replacing them along with any damaged subflooring. This ensures a safe surface for your home.
A full-scale renovation can include low-flow fixtures, LED lighting, and other energy-efficient features. In turn, you might save money on your utility costs while conserving water and energy!
New tile and paint, a new vanity, and other features can sometimes run into thousands of dollars. Consequently, you might end up paying almost as much for those "touchups" as you would a full renovation. In that case, talk to a contractor about your remodeling options.
Above all, remember that a bathroom space should work for you and your family and add value to your home. If any bathroom is extremely outdated and inconvenient to use, consider investing in a renovation!
Rhode Island Bathroom Remodeling is happy to provide this information about bathroom tile installation to our readers. Hopefully, you found it useful! If you're ready for a change, call our Rhode Island bathroom remodeling contractors. We'll schedule a FREE consultation and help you decide on changes needed to create the bathroom of your dreams.
A new shower installation in a RI home is a great investment for any family! An updated shower can include more room in the shower area, providing space for accessible storage. Adding a shower where there isn't one means less stress for everyone on busy mornings! In many cases, a shower renovation or installation can even increase property values.
However, many homeowners still hesitate to schedule a needed shower installation in Rhode Island, worried over its cost. So that you can make the right decision for your home, check out some details about average shower installation costs. Discuss this information and renovation plans with a professional contractor as well. This will ensure you're happy with your new shower for years to come!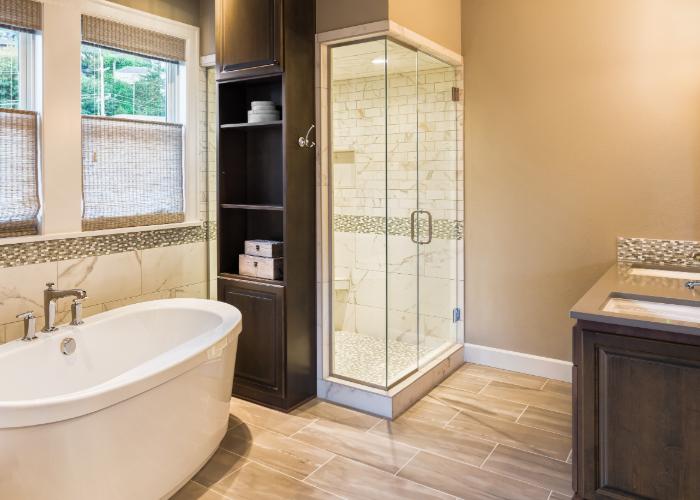 Average Costs for Rhode Island Shower Installation
As with any home improvement project, your average costs for a Rhode Island shower installation vary according to materials chosen. Also, a larger shower costs more than something smaller! Additionally, contractors might charge extra for various details of your installation, such as dual showerheads or a built-in seat.
Moreover, consider that labor costs add to your overall installation price. For instance, a standard acrylic shower shell might cost from $750 to $3000. On the other hand, installing a tub and new tile by hand might start at $4000 and run over $8000.
If you need an existing shower removed before installing a new one, expect to pay from $1200 to over $6000. Adding or relocating plumbing pipes can also add $600 to $1600 to the project, on average.
On the contrary, if you just need a shower removed and not replaced, a contractor might charge $50 to $100. Hauling away the resultant debris might mean another $250, on average. However, having a professional manage this work ensures safe tear-outs and shower removals. Also, paying them to remove the debris is often easier than trying to haul away that mess yourself!
What Type of Shower Installation is Best for a Home?
Homeowners are often surprised to discover their various options for a shower installation or remodel. However, knowing a bit more about your options ensures you choose the right one for your home. Also, some choices are more affordable than others. In turn, you might be surprised to learn that you can afford that new shower your family needs!
A standard bath/shower combo offers a relaxing soak or needed shower. If your current tub and shower offers the space you need, consider a simple update. New tiles or a fitted shell provide a stunning new look without high labor costs.
Custom showers are excellent for small or awkward spaces, or for creating a large shower space. However, labor needed for installing a custom shower by hand can be cost prohibitive for many homeowners.
Prefabricated showers, or those preassembled by the manufacturer, offer many advantages! One advantage is that you can install them in any space that can accommodate plumbing, including a basement or bathroom corner. Also, they need very little labor for installation, reducing their overall costs.
Corner showers use a glass enclosure that extends in a semicircle, from one wall to another. These are excellent for small bathrooms or for converting a lavatory to a full bath.
Step-in showers are excellent for wheelchair users and those with balance issues or other health concerns. These install without a "lip" or ledge across the front, allowing for easier access and added bathing space.
Steam showers offer upscale luxury, but they are not a DIY project! Warm steam relaxes muscles and open pores, like a sauna. However, steam showers need specialty enclosures. In turn, you'll need to hire a professional for your steam shower installation.
Does a Shower Installation Add Value to a Home?
A shower remodel or adding a new shower where there is none can increase property values! Expect to see a 60%-80% return on your investment in terms of increased property values. In other words, your home's value might increase $600 for every $1000 you spend.
In addition to property values, consider the functional value of a shower renovation or addition. An updated shower can offer added space, for more comfortable bathing. Also, a shower renovation can include built-in shelves, for accessible storage. Walk-in showers are also easier to manage for those with balance issues or other health concerns.
Above all, another shower in the home can ease congestion in the bathroom on rushed mornings! You can avoid a line outside your home's bathrooms and get out the door on time with an added shower. Also, a new shower can mean family members not having to share a bathroom, for added privacy and comfort.
Rhode Island Bathroom Remodeling is happy to offer this information about a shower installation in Rhode Island to our readers. If you're ready for a new shower or shower renovation, call our Rhode Island bathroom renovation contractors. We offer FREE consultations and customized designs. To get your home started, call us today!
Are you searching for small bathroom design ideas for your home? Small spaces often present lots of challenges. One reason it's hard to decorate small bathrooms is that they lack storage, so they often look cluttered. Two, even the tiniest design detail can look busy and overwhelming in a small bathroom!
To ensure your home's small bathroom is as stylish as it is functional, check out some bathroom design ideas for 2022. You can incorporate these as needed into your space, for a bathroom you'll love for many years to come!
Small Bath Design Ideas for 2022
When incorporating any of these ideas for your small bathroom, ensure you use the right materials! For example, never use anything but water-resistant paints and coatings for a bathroom. The right materials reduce the risk of water damage, mold, and other costly damage in the bathroom.
Ideas for adding storage in a small bathroom
Don't assume that you should install full-size shelves that might overwhelm the space. Instead, opt for tiny shelves along corners to hold smaller jars of supplies, washcloths, and the like.
Cut out sections of the wall to create recessed shelves. Recessed shelving provides added storage without getting in the way of the bathroom's footprint.
Never overlook any spot you can use for storage in a small bathroom. For instance, you can install a shelf over the door or a window.
If there is no room for shelving in your small bathroom, use hooks! Wall hooks provide a place to hang fresh towels and robes without creating a crowded space.
A recessed medicine cabinet also supplies storage without getting in the way of the sink.
Ideas for making a small bathroom look larger
Make your bathroom look taller by hanging your shower curtain higher than usual.
You might already know that stripes create the illusion of size. Use this to your advantage in your small bathroom! Add horizontal stripes to make the room look longer or wider.
Choose rectangular rather than square floor tiles. Install them in a pattern that adds length or width to the space.
How to make a small bathroom look brighter
An oversized mirror adds lots of light and style to a small bathroom! Installing a bigger mirror is an easy way to enlarge a small bathroom without making it look crowded.
Don't settle for just one light fixture over the mirror. Instead, install a light over the shower and anywhere else you can, for a brighter appearance.
Add lots of glass and metallic accents to the space, as these reflect light and keep the space bright and bold.
How to add bold style to a small bathroom
Avoid overwhelming your small bathroom by choosing an accent wall. Add a bold color or wallpaper to this wall alone.
Two-tone paint jobs are an excellent choice for adding style to a small space! Paint the lower half of your walls a strong color while leaving the upper halves neutral and light.
Use the vanity as a place to add bold personality to your small bathroom. Paint it a strong color or add oversized hardware for some eye-catching style.
Don't underestimate the impact of rugs and linens in a small bathroom! Add style with a patterned area rug and bold towel colors. This is also an excellent choice for renters who can't make permanent changes to the space!

How Do You Make a Small Bathroom Fancy?
There are two steps to making a small bathroom look fancy. First, remove anything outdated and dingy, and that makes the space look rundown and plain. Second, add some bold style without overwhelming the smaller footprint.
Remove anything that makes your bathroom plain
You can't have a fancy bathroom if it's full of plain, outdated, dingy materials and details. In turn, it's vital that you remove unsightly rugs, linens, the shower curtain, and anything ugly from the bathroom counter! Remember, you can have a fancy bathroom if it's weighed down by plain and downright ugly accessories.
How to add bold style to a small bathroom
To keep your new bold style from overwhelming the space, choose one area to add something eye-catching. This can be an accent wall you paint or wallpaper something stunning. For renters, create a gallery wall with oversized pictures or mirrors.
Once you've created that one accent space, add a touch more personality with accessories. Swap out the vanity's old hardware with oversized pulls and hinges. Next, replace those dull linens and countertop accessories with something updated and stylish.
What Are the Bathroom Colors for 2022?
Wall colors became more important for many homeowners after the COVID-19 lockdowns! Apparently, being in the home more often throughout the day made people aware of how color affects mood. Also, homeowners now realize more than ever that color can make a space seem larger, more elegant, or more welcoming.
To that end, look for spa paint shades and color trends when renovating or updating your home's bathroom. Teal blue or light sage green can make you feel like you're at a high-end spa. Water tones such as ocean blue and aqua also add style without creating an overwhelming look.

What Is the New Trend in Bathrooms?
Along with earthy colors, today's homeowners are incorporating soft, natural details to their home's bathroom. This includes lots of rope baskets for storing linens, wood shelves, and live plants. Wood mirror frames and artwork hung from jute and other natural materials are also hot ticket items this year!
Above all, relaxing bathrooms are the hottest trend for 2022. Look for built-in spa seating, rainwater showerheads, and space for lush linens. Even in a small bathroom, these simple touches can make the space welcoming and inviting and a joy to use!
Rhode Island Bathroom Remodeling is happy to bring this information about small bathroom design ideas to our readers. Hopefully you found it helpful and inspiring! If you're ready for a change in your home, call our Rhode Island bathroom renovation contractors. We'll work with you to create a bathroom design plan that fits your needs and budget. For more information, just give us a call!
When was the last time you scheduled a bathroom renovation in RI? If it's been over ten years, it's time to make that call! Before you go another day without a needed bathroom renovation, consider 6 reasons to schedule this work today.
1. Bathroom Renovations in RI Alleviate Stress
How can a Rhode Island bathroom remodel alleviate stress? One way is by adding adequate storage right where it's needed. Two, consider a larger vanity you can share with someone more easily during busy mornings!
Rather than stressing over where to find needed items, a new closet and added shelving can keep them right at your fingertips. Mornings are also easier when everyone has adequate space in the bathroom. A contractor can also add outlets where needed and increase privacy around the toilet and shower.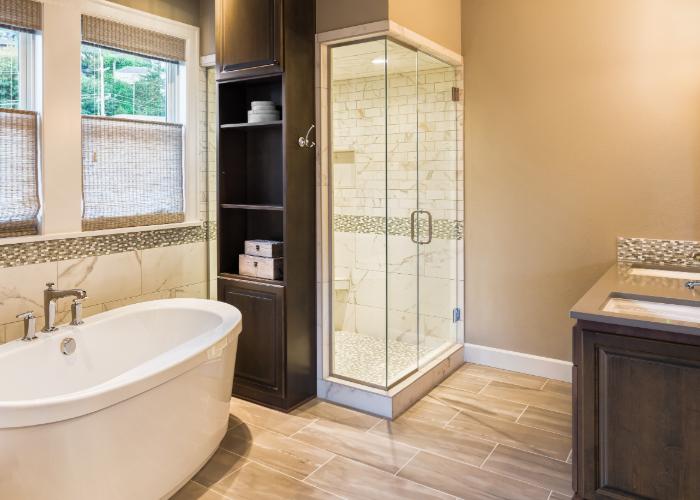 2. Get Organized With a Bathroom Remodel
A bathroom remodel can mean an organized as well as a larger bath. For example, a renovation contractor might add custom shelving for your oversized comforters and linens. Also, a remodel might include small cubbyholes for various personal care items.
Additionally, a renovation contractor can often add separate closets or shelving for everyone using the bathroom! In turn, you can keep items organized more readily and ensure proper storage for everything you own.
3. A Bathroom Remodel Offers Added Protection Against Water Damage
Over time, tile adhesion, paints, and other surface materials in a bathroom break down. In turn, they allow wood framing and drywall to absorb steam and airborne water droplets. Consequently, your bathroom might soon suffer wood rot, mold, and other damage.
Updated materials offer added protection against this damage. New tile, grout, caulk, paint, and other such coatings reduce the risk of mold and rotted framing. You'll then face fewer repair costs over time and less risk of warped floors and walls in the home.
4. Choose a Bathroom Renovation for Added Relaxation at Home
If you've always dreamed of luxuriating in your own spa at the end of a long day, a bathroom renovation can make it happen! Bathroom renovation contractors can add upscale features to even the smallest space. Additionally, softer colors, new shower heads, and other seemingly minor touches can make your bathroom a joy to use.
Also, you might find that some changes make the bathroom more welcoming and usable for your needs. As an example, a tub to shower conversion means added room for built-in seating. Just being able to sit in the shower can make it more relaxing than ever!
5. Bathroom Renovations Often Add Value to a Home
In addition to all the wonderful features you need from a bathroom every day, a renovation can increase property value! In turn, you can build equity faster and sell your home quicker if you should decide to move. Also, note that increased property values can mean higher lines of home equity credit. Consequently, you can improve your financial portfolio with a bathroom renovation!
6. Make Needed Repairs During a Bathroom Redo in Rhode Island
When a contractor starts pulling up materials for a bathroom renovation, he or she often spots needed repairs. This might include warped floorboards, leaking pipes, outdated wiring, and so on. In turn, you can make those repairs as needed, while the bathroom space is already torn up.
Note, too, that a renovation contractor might also suggest ways of protecting your bathroom space from future damage. One suggestion might be improved ventilation. Two, he or she might use higher quality paints or coatings, to help repel steam. Consequently, a renovation protects your new bathroom from water damage, mold, and other such risks.
When to Schedule a Bathroom Renovation in RI
In some cases, a homeowner might only need to look at their outdated bathroom and know that it needs renovating! However, if you're not sure when to schedule this work, check out some recommendations to keep in mind:
Old and worn tile might not offer adequate traction, creating a slipping hazard. If your bathroom's tile is more than 5 or 6 years old, consider a renovation!
Today's bathroom surface material repel moisture and are easier to clean than ever. In turn, schedule a renovation if you think you're spending too much time cleaning the bathroom.
If you're experiencing stress from a crowded bathroom or lack of storage, schedule a renovation. Even a few small changes can make the space easier to use for everyone.
If you've updated other spaces of the home, don't overlook the bathroom! An outdated bath can detract from a stunning new kitchen, bedroom, and other such room in the home.
Rhode Island Bathroom Remodeling is happy to bring this information about reasons to schedule a bathroom renovation in RI to our readers. Hopefully this information has been helpful! If you're ready for an update, call our Rhode Island bathroom renovation contractors. We'll schedule a FREE design consultation and get your home started on a stunning new bath. To find out more, call us today.
Are you planning on bathroom remodeling in 2022? More and more homeowners are scheduling renovation projects this year, having spent more time at home during COVID-19 lockdowns! Outdated fixtures and downright ugly surfaces are hard to ignore when you're always home throughout the week.
If you know it's time to update your home's bath, check out some hot new trends you'll want to consider. Incorporating these details or using them for inspiration will ensure you're happy with your space for years to come.
What is Trending in Bathroom Renovations?
Note a quick list of bathroom renovation trends you might incorporate into your remodeling plans this year:
In 2022, homeowners are moving away from traditional dark earth tones, including shades of brown. Cool gray seems to be the favorite choice for bathroom updates! Gray offers a neutral shade that works well in both traditional and modern styles. Gray is also available in a wide range of tones, from a light whitewash to deep charcoal.

Oversized tiles are an excellent choice for a bathroom renovation. Larger tiles fill up a spacious bath and add grandeur to smaller spaces.

Smart fixtures and features are one of the hottest trends in bathroom renovations! Electronic toilets offer heated seats, built-in bidets, and deodorizers. Upgraded showers allow you to set a specific water temperature, ensuring comfort and safety.

 

Along with smart fixtures, many new bathrooms include built-in Bluetooth technology, voice-activated lighting controls, spaces for TVs, and other electronic features.

This year's bathroom renovations also ensure a spa-like experience. Check out built-in shower seating, more than one shower head, soaker tubs with whirlpool jets, and other luxury features.

Gone are dull and drab square bathroom tiles! One of the hottest bathroom renovation trends is tile offered in a range of shapes and sizes. Look for hourglass figures, hexagons, diamonds, fish scales, and a range of other options.

Never overlook needed storage in your bathroom renovation plans. Today's cabinets offer a wide selection of storage features, including smaller interior sections for linens and personal items. Glass doors and drawer fronts also make finding everything you need easier than ever.

Heated floors are easier than ever to install and ensure your feet stay toasty warm when using the bathroom on a cold winter day.
What is the Current Trend in Bathroom Sinks?
There is no need for a bathroom sink to look dull and drab, or to seem like an afterthought. This year, vessel sinks are hotter than ever. A vessel sink is a bowl that sits on top of the counter, as a completely separate pieces from the vanity. Vessel sinks make an impact in any bathroom!
Open shelving is also a great choice for the vanity under the sink. Having an open shelf keeps the vanity from overpowering the space and allows you to showcase your luxurious linens. Floating vanities or those without legs and feet also ensure an open look.
Minimalism is also a hot trend in bathroom remodeling for 2022. Look for simple, square faucets and drawer handles, and vanity doors without much detailing. Mirror frames are also simple and monochromatic, to complement the sink area rather than compete with it!
What's New In Bathtubs?
As with your bathroom sink, you don't need to settle for a dull and drab bathtub! Freestanding tubs with flat bottoms are the hottest choice in 2022. These allow for luxurious soaking while offering a more modern look than traditional clawfoot tubs.
Walk-in bathtubs are also a great trend to consider for your bathroom renovation. Even if you don't struggle with health concerns currently, a step-in tub allows you to age in your home. Without a tub wall to step over, walk-in tubs are safer for everyone in the family!
How Much Does a Bathroom Remodel Increase Home Value in 2022?
Bathroom remodeling is an excellent way to build equity in your home while enjoying a stylish, functional space. While you won't necessarily get back every dollar you spend in terms of increased value, most homeowners can expect to see a 60% to 70% return on their investment.
In other words, your home's value should increase about $65 for every $100 you spend on that bathroom renovation. A $5000 renovation might then increase your home's value by about $3250, on average.
While these numbers vary for every project, there are ways you can maximize that return or increased value. One vital tip is to avoid too many high-end materials and expensive details. Many buyers aren't willing to pay top dollar for marble floors and counters, oversized tubs, and other such details. Instead, opt for durable, attractive options, so you can enjoy a maximum return on your investment.
Homeowners should also remember to include needed plumbing and electrical updates, subflooring repairs, and other details in their remodel. No matter how pretty a bathroom, buyers won't want one with outdated plumbing, water-damaged flooring, and other such issues.
What Is the Average Cost to Remodel a Small Bathroom?
The average cost to remodel a small bathroom depends on how many changes you're planning in the space. The materials you choose, as well as how much work you do yourself, also affect your costs. Most homeowners can expect to pay around $6500 on average, with costs running as low as $1500 and as high as $15,000 or more.
If you want to keep costs low, note a few tips to consider and discuss with your contractor:
Keep fixtures and features in the same place! Reworking plumbing, wiring, and other details so you can relocate a tub or sink increases your costs.

Ask your contractor what you can manage yourself. This might include removing floor tiles or a vanity, or repainting walls.

Look for stone remnants and reclaimed or recycled items for your renovation rather than buying everything new.

Cabinets from a big box home improvement store might offer all the storage and style you need. These are also much more affordable than custom cabinets!
When making your plans, avoid cutting out a contractor no matter the cost savings. Bathroom renovations not done to local building codes can affect your home's overall value. Poor-quality installations can also risk water damage, wood rot, and mold. To ensure a renovation you'll love for years to come, have a contractor manage tasks outside your expertise!
Rhode Island Bathroom Remodeling is happy to share this information about bathroom remodeling trends for 2022 to our readers. Hopefully you found it helpful! If you're in the market for a stunning new bathroom space in your home, call our Rhode Island bathroom remodeling contractors. We'll schedule a FREE design consultation and price quote, and guarantee an end result you'll love. To get started, just give us a call!